Vaarta/Story (Aagnya) :

When Shri Gusaiji were out of town (pardes), Nikunjnayak Shrinathji told elder son of Shri Gusaiji - Shri Giridharji that he wishes to stay at his home.

This aagnya was whole heartedly welcomed by Shri Giridharji.

Then Shri Thakurji stayed at Shri Giridharji's home in Mathura - Satghara and every family member did Sarvasamarpan (Complete Self-surrender of

themselves and their belongings as well) to Shri Thakurji. One of the betiji mistakenly forgot to offer her baali (nose ring), so, Shri Thakurji himself asked for

the baali from betiji. Shri Thakurji stayed there for 2 months and 22 days and gifted them lot of happiness.

We must always remember this occasion whenever gurudev come at our place. This varta prasang initiated the tradition of Padhramni in Pushtimarg.

Also the Ashtasakha's express the same Bhaav in their pad:

Shri Soordasji describes this Bhaav as follows:

---
Translation and Photographs from Seva Reeti Preeti Vraj Jan Ki
---

Ashad Sud 15 - Guru Poornima

Kirtan

Tanki Tapan Gai, Mahal Mere Aaye Laal,

Naynan Mag Niharo, Palkan Pendo Zhaaro, Kar Rakho Ur Maal ------------- (1)

Mukh Dekhe Sukh Hot Sakhiri, Prem Priti Pratipaal,

"Soordas" Prabhu Beg Hi Daras Diyo, Bahut Ju Bhaee Hon Nihaal ----------- (2)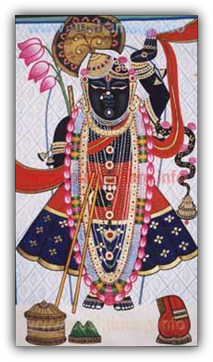 Shriji in Guru poornima's Shringaar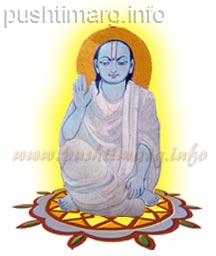 Mere Guru Shri Vallabh
GURU POORNIMA
Ashad Sud Poonam (15)
Kirtan - Raag Mishra Naayki

Mere Guru Shri Vallabh Jug Jug Raj Karo,

Samarath Guru Hamare Hain, Shri Vallabh Naam Hai, Vraj Ke Chandra Samaan Hain ----------(1)

Diyo Brahmasambandh, Liyo Sharan Mein,

Padhraai Prabhu Ki Seva, Kripa Drishti Ki Khaan Hain ---------(2)

Ati Dayaalu, Ati Kripaalu,

Kiyo Pushti Prakash, Daivi Jeev Ke Nath Hain-------------------(3)

Nandalay Ke Bihari, Nikunj Ke Yugal Bihari,

Sadaa Seva Mein Rakhiye, Daasi Tihaari Hai--------------------(4)

Seva

Vastra are of choufuli Chundadi with golden border, Shringaar of Mukut-Kaachni

(upper Kachni red and lower blue). Kundal Mayurakrut, uparna red and ornaments of pearls.

Thada vastra white Jamdani

During Rajbhog Charoli Laddoo, Kachori - is a must, Dahi, Chaas Vada, All types of Beej,

Bilsa, Sev, Sandhana, Paapad, Pakodi Kadhi, and Moong dal has to be offered to Shri Thakurji.

A Guru is one who is regarded as having great knowledge, wisdom and authority in a certain area, and who uses it to guide others (teacher).

In Sanskrit gu means darkness and ru means light. As a principle for the development of consciousness it leads the creation from unreality to reality,

from the darkness of ignorance to the light of knowledge.

In its purest form this principle manifests on earth as a divine incarnation (saint), a person with supreme knowledge about God and all creation.

"Shri Krishna Gyando Guru:"

- from Shri Vallabhacharyaji's 108 Names as said by Shri Gusaiji in Sarvottam Stotra

Shri Vallabhacharyaji enlightened the daivi jeev's (divine people) by making them understand the essence of Shri Krishna's Bhakti (devotion) by delivering

speeches on Shrimad Bhagwat and its commentary and showed them the way to attain the lord from whom they had been separated from thousands of

years.


---
---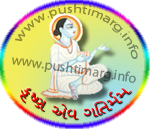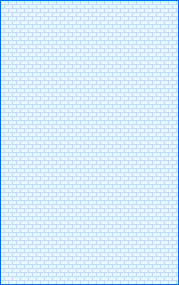 Also Visit