---
Translation and Photographs from Seva Reeti Preeti Vraj Jan Ki
---

Shravan Sud 12 - Pavitra Dwadashi
PAVITRA BAARAS
Shravan Sud 12

On the day of PAVITRA BARAS ( SHRAVAN SUD 12) it is the duty of the Bhakt to go to the Baithakji of Shri Vallabh as well as his Gurudev and adorn him with

the Pavitra. This is the day on which in Samvat 1549 (Shravan Sud 12), Shri Mahaprabhuji gave Shri Damodardas Harsaniji(the first bhakt/vallabhi)

Brahma Sambandh.


On this day devotee/ disciple has to adorn his Gurudev with the Pavitra.

If the Gurudev does not happen to be in town then he adorns the Pavitra on any

Vallabhkul Balak residing nearby. If even this is not possible then he can adorn

Pavitra to the Chitraji of his Gurudev.


He then offers Mishri to his Gurudev. Adornment of Pavitra should be done

before Raksha Bandhan but due to any unforeseen circumstances the Bhakt is

unable to do so then he can fulfill this commitment of his upto Janmashtami.


Today's Vastra is Pink colour Pichoda with Golden Border. On the Shri Mastak Pink Khidki Paag,

Shirpech, Kalgi, Sheesh Phool, Chamakni Chandrika, Loom,

Karnaphool and Chakda. Thada Vastra is Green.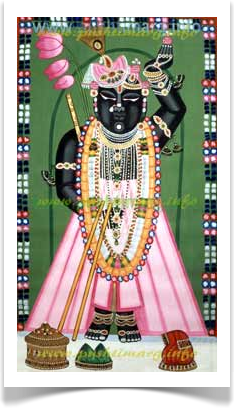 Shriji in Pavitra Baras/Dwadashi's Shringaar
---
---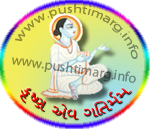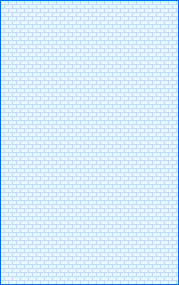 Also Visit