NARSINGH JAYANTI

Vaishakh Sud 14 - Chaturdashi

Shriji resided at Satghara in Mathura from Maha Vad 7-Saatam (Vraj - Phaagun) upto Vaishak Sud 14-Chaudas. On Vaishak Sud 14, Shriji returned to

Shri Girirajji. Shriji presided in Mathura at Satghara for 2 months and 21 days. During this time Shri Giridharji pampered(indulged) Shriji by various

manoraths. It being the days of Holi (khel ke din - Phaagun Maas), bahuji's and betiji's of Shri Gusaiji's balaks were blessed as Shriji played the holi khel

with them.

---
Translation and Photographs from Seva Reeti Preeti Vraj Jan Ki
---

Vaishakh Sud 14 - Narsingh Jayanti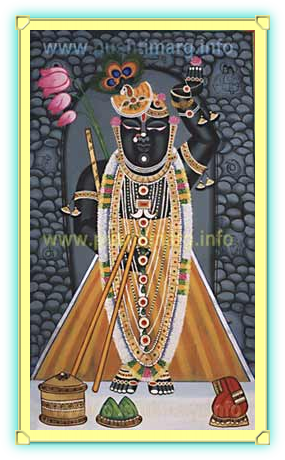 Shriji in Narsingh Jayanti's Shringar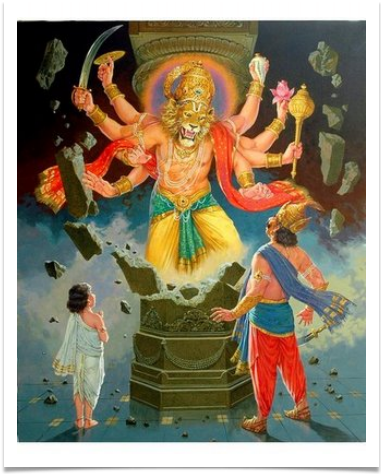 Shri Narsingh Avtaar
---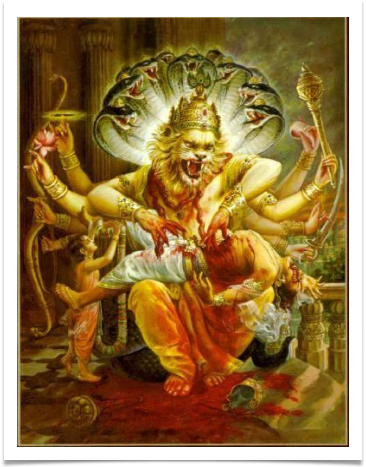 SEVA PRAKAAR

Today's saaj is completely white and vastra is kesari Malmal with silver(rooperi) border Pichoda and on Shrimastak is Kulhe Jod of 3 Chandrika and all the

ornaments of pearls.

vaghnakha and vagh modha wala Kadaa is the main ornament of the day.

Sathva and Dahi bhaat are the main samagri of the day and different varieties of fried seeds are also offered.

At Rajbhog a plate full of water is kept in front of the Shriji in which toys made of silver or sandalwood are put in, even flowers are put in the water.

On this day panchamrit Snaan is done in the evening. From this day onwards every fourth day Shriji is given Abhyang Snaan. The plate of water which is

kept in front of Shriji, from this day continues upto a day before Rathyatra and daily in Rajbhog, Dahi bhaat should be offered to the Shriji. During these

days the Thada Vastra is done away with.

In the Greeshma Ritu Seva of Prabhu, the ornaments of flowers, chandan, shell and tiny pearl shringaar is offered. The Gunja Maala is White in colour. The

Vastra is of pure Cotton, with Chandan Chaapa and light colours like pink, sky blue, champai, white and the colour of sandal paste are adorned to Shriji. The

border of the Vastra should be of Lace. During the Geeshma ritu, rose, kevda, khas and rose water is also used in the seva of Shriji. Sandalwood paste is also

used extensively.

To this Shri Giridharji explained that Shriji wanted to give darshan to Shri Gusaiji at Jatipura and

hence he undertook the travelling from Mathura to Jatipura on this very day itself.

Hearing this, Shri Gusaiji felt very much blessed and was very happy that Shriji loves him very much.

That day i.e. Vaishak Sud 14 happened to be the utsav of Narsimha Jayanti. Therefore, Gusaiji offered

Rajbhog Samagri once again along with Shayan Bhog. From that day onwards it has become a ritual in

Shri Nathdwara that every year during Narsimh Jayanti, a second Rajbhog Samagri is offered along the Shayan Bhog.

When Shriji was presiding at Mathura, during that time Shri Chaturbhujdasji could not have darshan of Shriji at Girirajji and he became so distressed (i.e.
his

virah bhaav became very strong) that he went on repeating "Govardhan vaasi Saanvare Laal, Tum Bin Rahyo Na Jaay". His distress or his Virah taap was so

potent(strong) that Shriji had to come back to Girirajji.

In the Pushtimargiya temples across India, on this day the darshan of Narsimh janma is in the evening and utsav bhog is offered to the Shriji in which

"Sheetal Pana and Leela Meva" is offered to thwart(lessen) the parishram of of Shriji.

When the news of Shri Gusaiji reaching Jatipura came in then at that time Shrinathji ordered

Shri Giridharji to take him back to jatipura (Shri Girirajji) and make him preside

in his temple at Girirajji. Shriji's ordered was followed and Shriji was presided in the temple

on this day in the afternoon and then Rajbhog was offered. During this time Shri Gusaiji

came to the temple. It was almost time of Sandhya Aarti, Gusaiji was surprised as to why

Rajbhog was offered at this time (in the evening) ?

---
---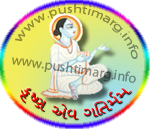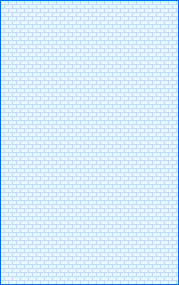 Also Visit